Chicken & turkey recipe for puppies
From 49 days to 9 month old
100% authentic homemade recipe
From 49 days to 9 month old
100% authentic homemade recipe
Available in:    250g – 3.50€  /  2kg – 24.00€  /  10kg – 74.00€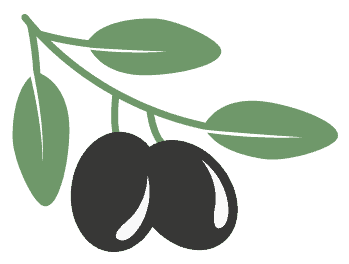 INGREDIENTS
Food composition
Fresh free-range chicken 35%, fresh turkey 30%, fresh chicken livers & hearts 2%, fresh chicken gristle 2%, fresh eggs 2 %, oat flakes 6%, clover (alfalfa), goji berries, cranberries, chia seeds, hemp seeds, turmeric, fresh peas, fresh lettuce leaves, fresh valerian, fresh spinach leaves, fresh rocket leaves, fresh zucchini, fresh carrots, coconut oil, Greek virgin olive oil
Oven baked dog food for puppies with fresh free-range chicken and fresh turkey, Superfoods, fresh vegetables and Greek virgin olive oil. Α recipe designed with quality protein and natural ingredients based on the ancestral diet and the biological needs of your puppy, with fresh meat as the main ingredient. Suitable for puppies, from 45 days to 9 month old and for all breeds.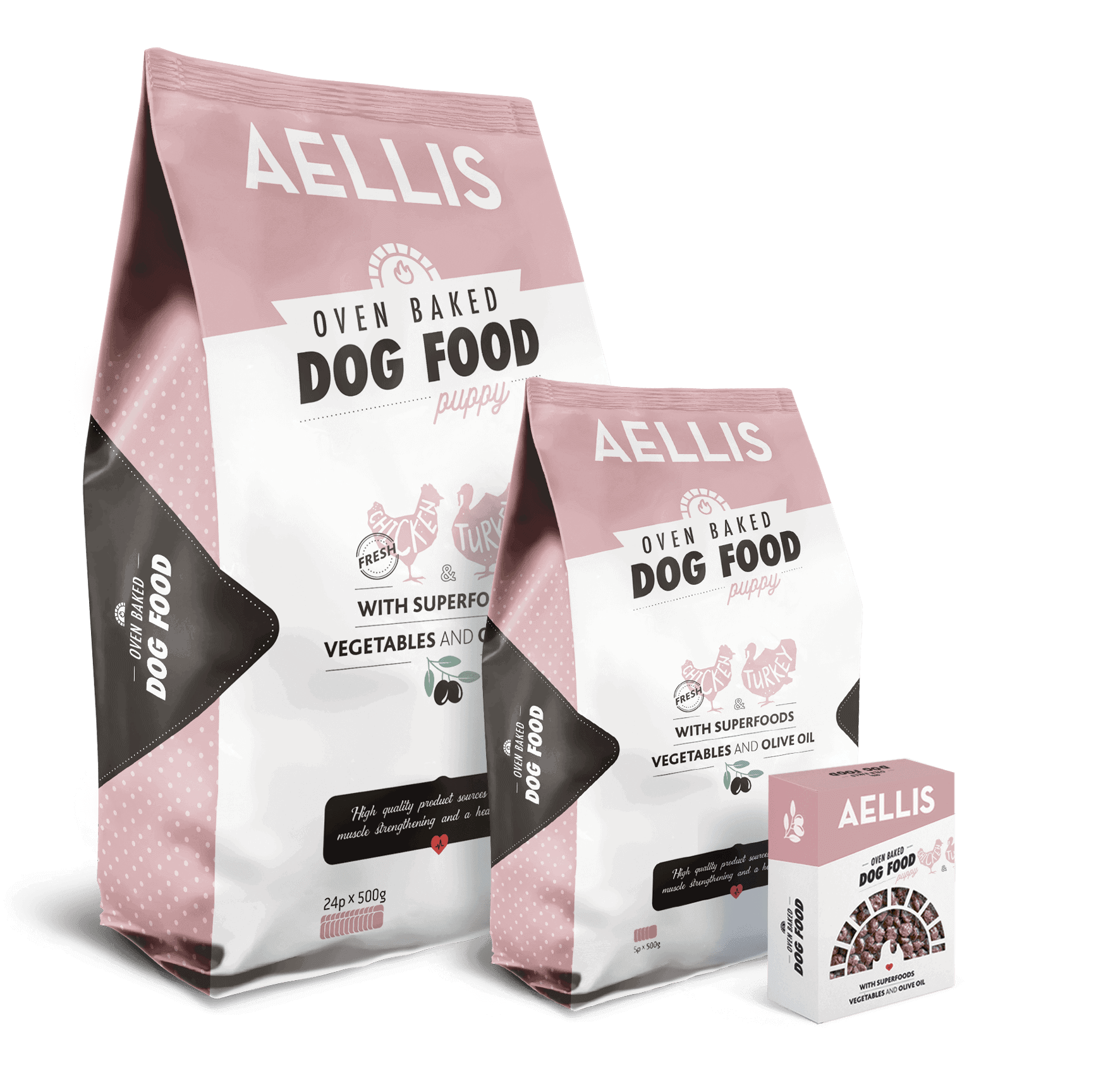 Free from artificial colors, flavors and preservatives
Health supporting Herbs, Organic Vitamins and Minerals for optimum absorption
Naturally Hypoallergenic, formulated to contain healthy low Carbohydrates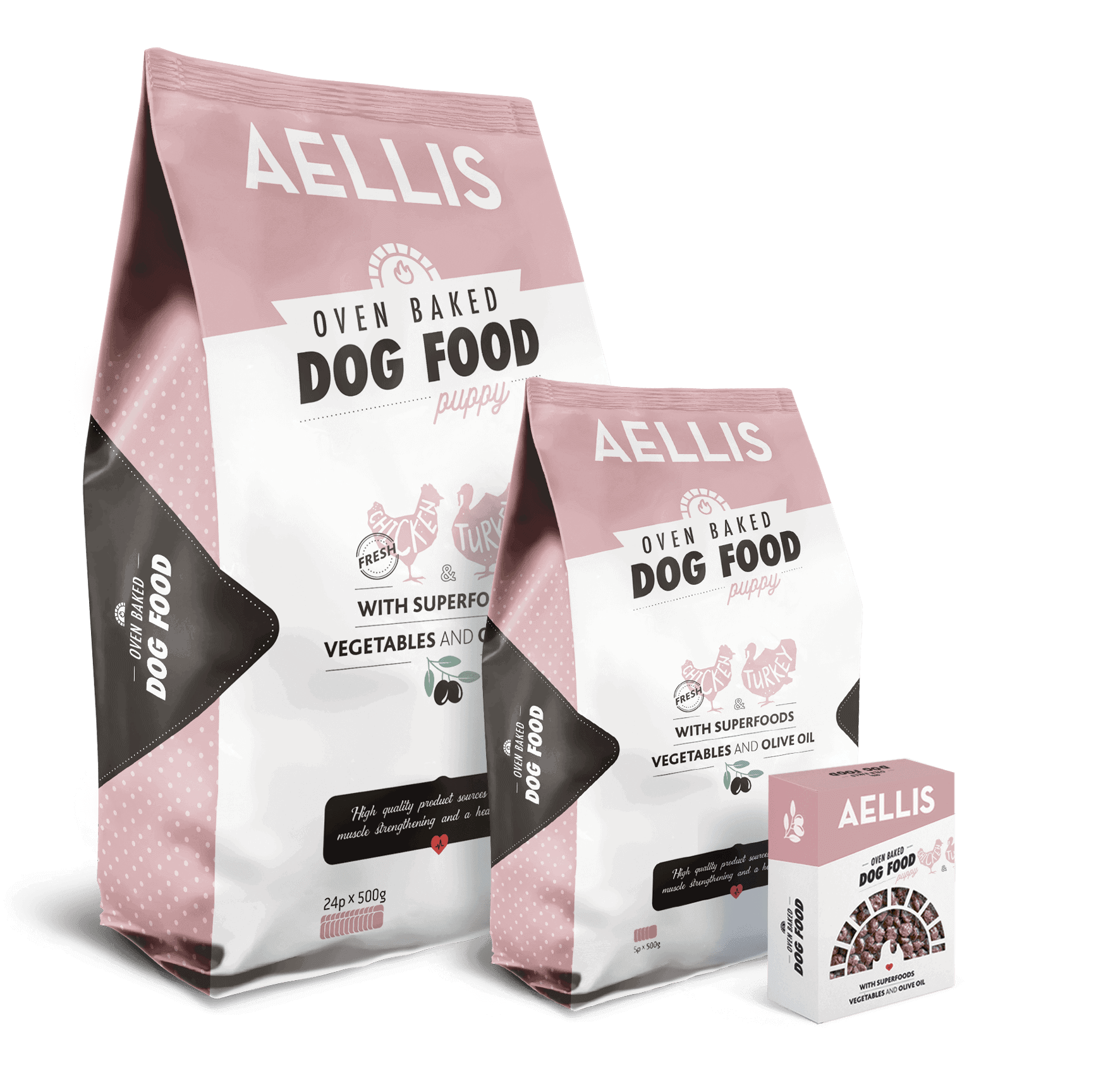 Easily digested ingredients for excellent assimilation
Omega 3 and Omega 6 fatty acids to promote healthy skin and a soft and shiny coat
Essential antioxidants and phytonutrients from Superfoods to support a healthy immune system
After opening:
After opening the 500 grams single serving, it is recommended to be consumed within 14 days.
100g of product contains:
| | |
| --- | --- |
| Proteins: | 33% |
| Carbohydrates: | 17% |
| Total Fats: | 24% |
| All Fibrous Substances: | 7,5% |
| Humidity: | 12% |
| Total ash: | 6,20% |
| Energy Value: | 440 kcal |
| Omega 3: | 1.20% |
| Omega 6: | 1.80% |
| Calcium: | 1,50% |
| Phosphorus: | 1.10% |
| Glucosamine: | 350mg/kg |
| Chondroitin: | 250mg/kg |
Recommended Daily Feeding Charts:
40 Miaouli Andrea Street
183 45 Moschato, Greece
Monday – Friday:
08:00 – 16:00 (EEST)